Thank you for continuing to read and support the Netforks blog and our ongoing efforts to provide quality and useful information.
The last couple of months, we have explored equipment in different ways. In November, we discussed using your yearly budget wisely and some of the different items you could purchase to do so. One of the categories was equipment, so we followed that up by highlighting one of our favorite pieces of equipment: skid steers. Traditionally, acquiring this equipment can happen one of two ways: buying or renting. This month, we will focus on helping you make an informed decision when considering both options
Factors To Consider
There are many different factors to consider when deciding whether to rent or purchase your equipment, and these factors will vary from business to business. This list from Utility Contractor is a great place to start:
Budget
Look at your annual budget for equipment and compare that with your equipment needs for the year. Was enough budgeted for new equipment purchases to meet all your needs? Have new projects come in since the budget was set that might require special equipment? Will the revenue your projects are estimated to bring in more than cover the cost to purchase and maintain the equipment? If you are coming up against budget constraints, renting may be the better option. If your budget is more flexible, exploring other factors can help with your decision. As we talked about in our budget blog, there also may be tax implications for purchasing equipment that you won't get from renting.
Availability of resources to Operate & Maintain Equipment
This is a factor that many businesses can overlook when deciding between renting or purchasing equipment. Having someone who can operate the piece of equipment as well as maintain it is important to getting the return on investment (ROI) you need to justify acquiring a new piece of equipment. If you purchase the piece of equipment, but do not have operators/technicians, that adds more expenses to the purchase that you may not have considered. If you have a permanent need for the equipment, you should also factor paying an operator and/or technician into the cost of purchasing your equipment. If this is for a shorter-term project, you could consider contracting skilled labor to minimize the cost for the duration of the project.
Duration of Use
The length of your project and how much you plan to use the equipment should be considered before making your final decision. Plan Academy gives a general rule that if you are planning on using the equipment for 22 consecutive days or 176 hours for more than eight months in a year, you might be better off purchasing the equipment. If you are only planning on having that level of usage for one year, you may still want to explore renting. If the equipment is needed for a new business function intended to be a permanent offering, you should consider the long-term expenses of both renting and buying.
Urgency Of Need
How quickly the equipment is needed can sometimes make the decision for a business. Many rental companies have fleets of equipment on-hand and offer delivery and onsite maintenance. Many purchases include custom specifications and made-to-order options for each individual business, which can prolong the process of starting your project. With supply chain issues still plaguing the country, if you are in urgent need to get started, renting may be the best option until you can assess a timeline for purchase. Netforks has numerous products in-stock and ready to ship. Reach out to our representatives to see what is available and what expected lead times are on custom products.
After exploring these factors, you will almost certainly have an idea of the pros and cons of taking either action. Below is a quick summary of pros and cons for both renting and purchasing: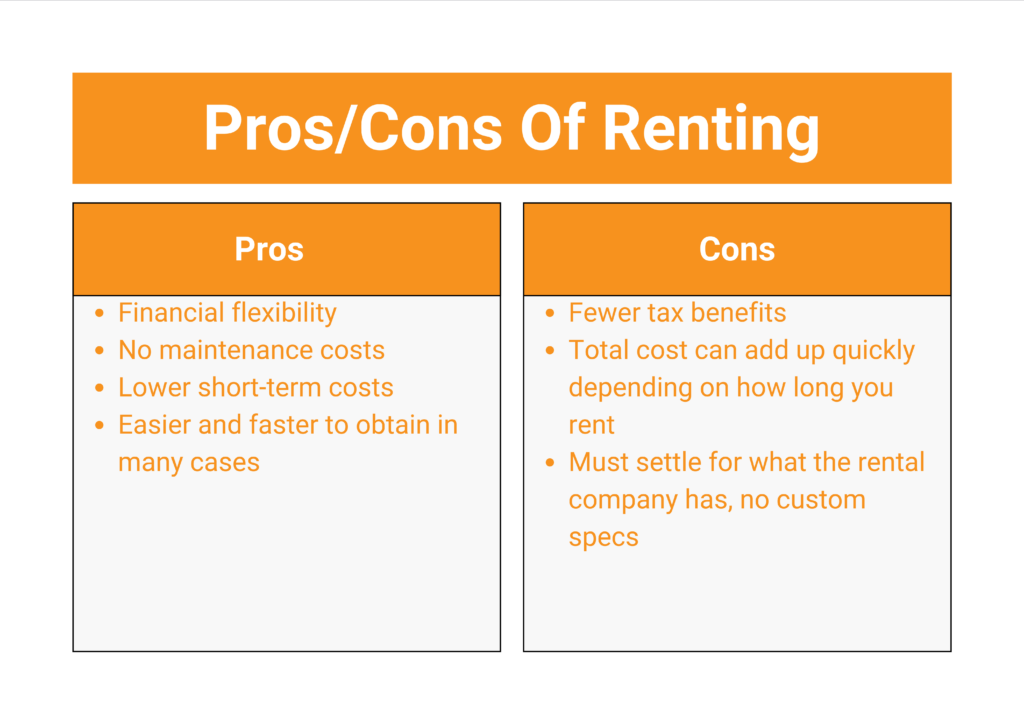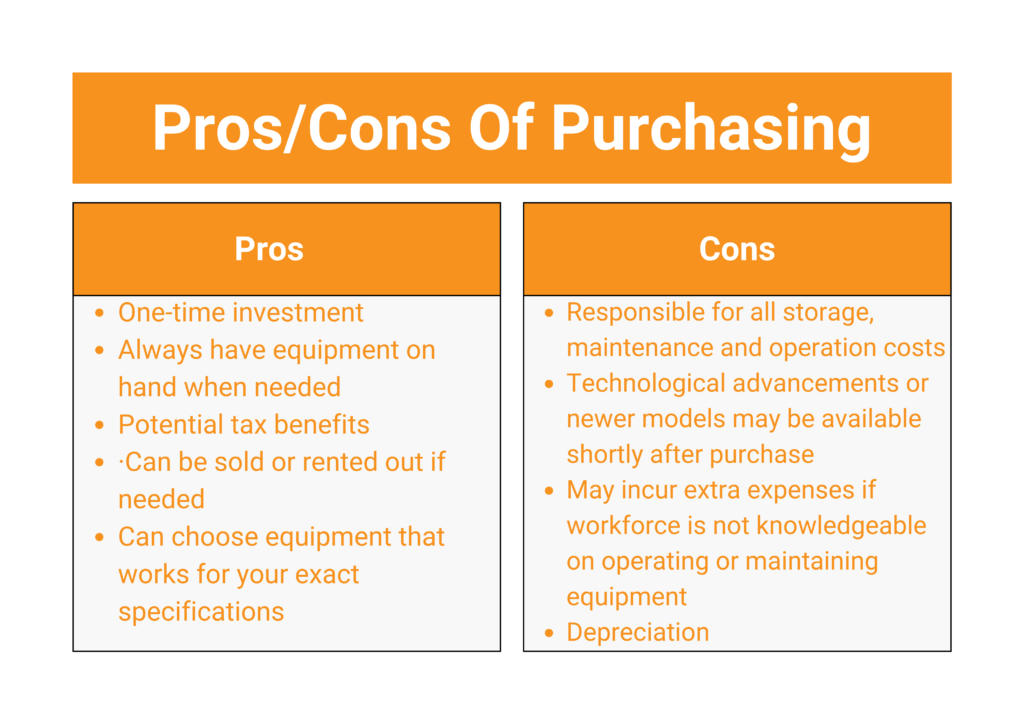 Still not sure if renting or purchasing is better for your business? Your company's financial advisor or tax specialist is a good place to start. While we don't offer rentals, our product experts are available to walk through your purchasing options — reach out today! Hopefully, this blog was helpful for you in making these decisions that many people face daily. At Netforks we want to equip you with the information to make the decision that works best for you and your business. Let us know what you learned in the comments!